Adhesive Capsulitis
Diagnosis
Non-operative Options
Operative Options
Before Your Surgery
After Your Surgery
Your Rehab
What is Adhesive Capsulitis?
Adhesive capsulitis, also called frozen shoulder, is a condition characterized by pain and loss of motion in the shoulder joint. It is more common in older adults aged between 40 and 60 years and is more common in women than men.
Causes of Adhesive Capsulitis
Adhesive capsulitis is caused by inflammation of the ligaments holding the shoulder bones to each other. The shoulder capsule becomes thick, tight, and the stiff bands of tissue called adhesions may develop. Individuals with shoulder injury, shoulder surgeries, shoulder immobilized for longer period, other disease conditions such as diabetes, hypothyroidism, hyperthyroidism, Parkinson's disease and cardiac diseases are at risk of developing frozen shoulder.
Symptoms of Adhesive Capsulitis
Adhesive capsulitis may cause pain and stiffness and limit the movements of the shoulder.
Diagnosis of Adhesive Capsulitis
Adhesive capsulitis can be diagnosed by the presenting symptoms and radiological diagnostic procedures such as X-rays or MRI scans.
Physical Therapy Intro
Shoulder and Elbow Steroid Injection
Conservative Treatments for Adhesive Capsulitis
Conservative treatment options include:
Non-steroidal anti-inflammatory drugs and steroid injections for pain
Physical therapy to improve your range of motion
Sometimes heat may be applied to reduce pain.
Want to know more?
Surgery for Adhesive Capsulitis
Your surgeon may recommend shoulder arthroscopy when the conservative treatment does not work. During surgery, the scar tissue will be removed and tight ligaments, if any, will be dissected.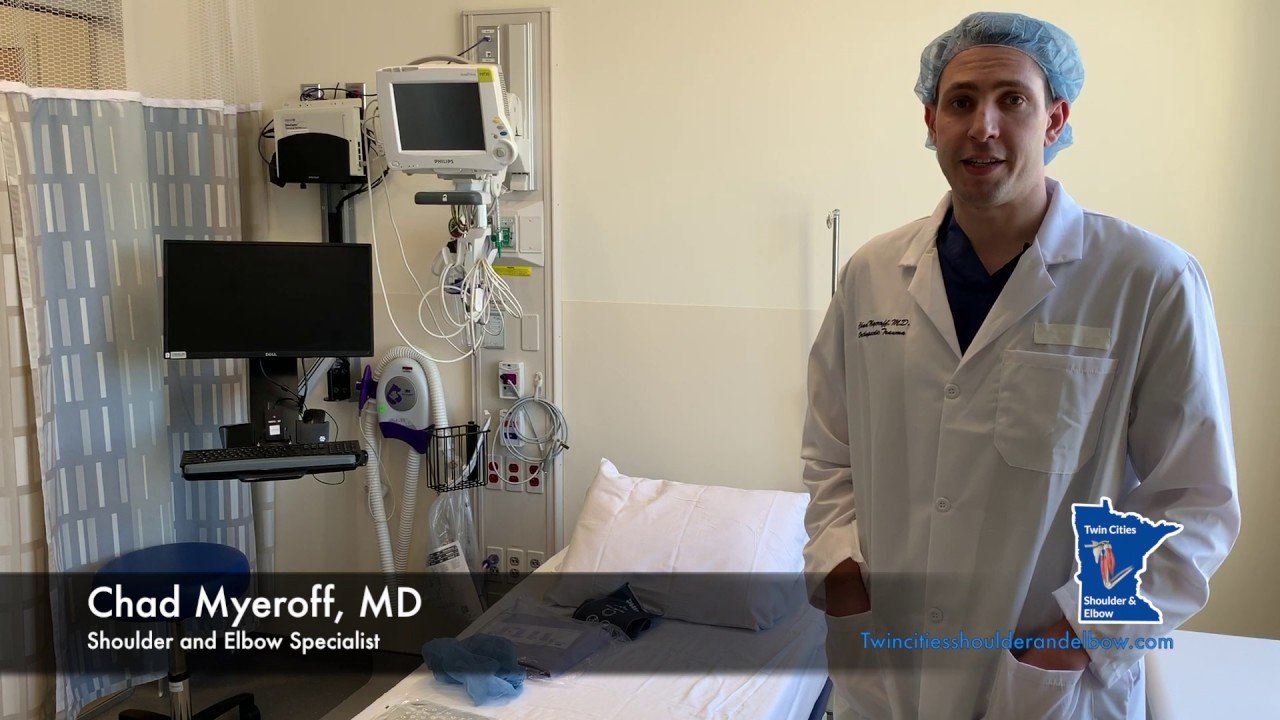 Before Surgery Video
Once you and your doctor decide that surgery will help you, you will need to learn what to expect from the surgery and how to actively participate in the treatment plan for the best results afterward.
Preparing mentally and physically for surgery is an important step toward a successful result. Understanding the process, and your role in it, will help you recover more quickly and have fewer problems.
Before surgery, your doctor will perform a complete physical examination to make sure you don't have any conditions that could interfere with the surgery or the outcomes.
Routine tests, such as blood tests and X-rays may be performed.
Discuss any medications you are taking with your doctor as you may have to stop or alter your intake before surgery. If you are taking aspirin or anti-inflammatory medications or any drugs that increase the risk of bleeding, you will need to stop taking them one week before surgery to minimize bleeding.
Discuss with your doctor about preparing for potential blood replacement, medical interventions and other treatments prior to surgery.
Report any infections to your surgeon. Surgery cannot be performed until all infections have cleared up.
If you smoke, you should stop or cut down as smoking interferes with wound healing and can affect your recovery.
Have someone available to take you home, as driving is not recommended for at least 24 hours or as advised.
You may need help with everyday tasks such as cooking, shopping and laundry.
Put items that you use often within easy reach, so you won't have to stretch and bend as often.
After Surgery Video
Shoulder Surgery Recovery Video
Physical Therapy Intro Video
Finger ROM Video
Standard Elbow ROM Video
Shoulder ROM Video
Following surgery, physical therapy will be advised to bring full range of motion and strengthen the muscles supporting the shoulder joint.
Want to know more?
Related Topics