In the News
Dr. Myeroff Publishes on Outcomes of Elbow Fracture fixation in Older Patients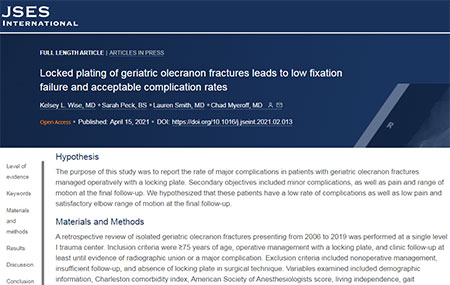 Dr. Myeroff and his team have just published the first Article worldwide reporting the outcomes of olecranon elbow fractures using locked plating technology. This study showed good outcomes, superior to those published in Europe with standard plating techniques.
Dr. Chad Myeroff selected as a Top Doctors "Rising Star" in Shoulder and Elbow Surgery by Mpls St. Paul Magazine.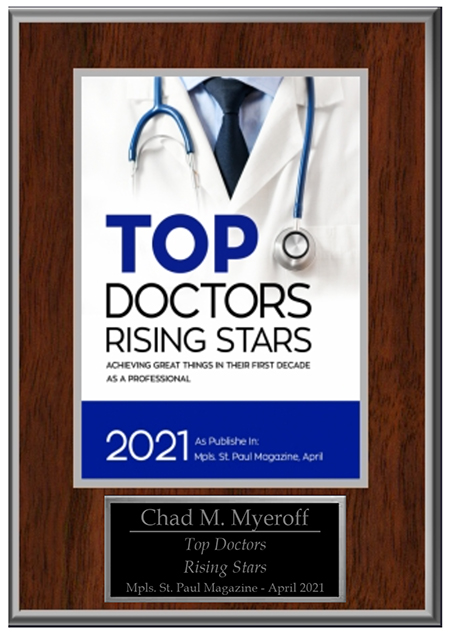 Dr.Chad Myeroff specializes in all aspects of shoulder and elbow care including arthroscopic care of rotator cuff tears, shoulder dislocations, biceps repairs, total shoulder replacements, and complex fracture repair. He has published 7 peer reviewed articles, 5 chapters and lectured nationally on shoulder and elbow care. He has been recognised among his peers for achieving great things in their first decade as a professional.
Chad Myeroff, MD, Earns Board Certification in Orthopaedic Surgery

Twin Cities—Orthopaedic surgeon Chad Myeroff, MD, Shoulder and Elbow specialist of TRIA Orthopedic Center recently received Board Certification from the American Board of Orthopaedic Surgery (ABOS).
To achieve Board Certification from the ABOS, Dr. Myeroff first successfully completed a fiveyear residency program in orthopaedic surgery which was accredited by the Accreditation Council for Graduate Medical Education and then passed the rigorous ABOS Part I examination, a comprehensive computer-based examination encompassing all facets of the field of orthopaedic surgery. He then received fellowships in Shoulder and Elbow Surgery, as well as Upper Extremity Fracture Care.
Two years later, Dr. Myeroff's clinical competence was evaluated through a credentialing process and the ABOS Part II oral examination. After providing ABOS with a case list of all surgeries performed over a recent six-month period, experienced surgeons selected 12 of these cases to comprise Dr. Myeroff's Part II Oral examination. Specific skills that were evaluated during that examination include data gathering and interpretive skills, diagnostic skills, treatment expertise, technical skills, patient outcomes, and applied orthopaedic and medical knowledge.
After passing both the written and oral examinations, Dr. Myeroff is now considered Board Certified in Orthopaedic Surgery. The Certification lasts for 10 years and Dr. Myeroff is now considered a diplomate of the ABOS. In order to be recertified, the diplomate must pass a recertification examination, receive positive reviews from peers in their practice area, have a selected period of surgical cases evaluated and participate in continuing medical education.
The American Board of Orthopaedic Surgery, Inc. was founded in 1934 as a private, voluntary, nonprofit, independent organization to serve the best interests of the public and the medical profession. These interests are achieved through the ABOS by establishing standards for the education of orthopaedic surgeons. These standards are evaluated by the ABOS through examinations and practice evaluations.