Distal Biceps Tendon Tears
Diagnosis
Non-operative Options
Operative Options
Before Your Surgery
After Your Surgery
Your Rehab
What is a Bicep Tendon Tear?
The biceps muscle located in the front of the upper arm allows you to bend the elbow and rotate the arm. Biceps tendons attach the biceps muscle to the bones in the shoulder and in the elbow.
Biceps tear can be complete or partial. Partial biceps tendon tears will not completely break the tendon. Complete tendon tears will break the tendon into two parts.
Biceps tendon tears at the elbow: Although two tendons attach the biceps muscle to the bone at the shoulder, only one tendon attaches it to the elbow. This is known as the distal biceps tendon. Tears of the distal biceps tendon are usually complete and the muscle is separated from the bone. Tears of the distal biceps tendon most often result from a sudden injury or lifting a heavy object.
Causes of Bicep Tendon Tears
Biceps tendon tear can be caused by injury such as falling with your arm outstretched or during the act of lifting heavy objects. In case of overuse, a tendon may fray and eventually tear.
Symptoms of Bicep Tendon Tears
The most common symptom is a sudden, severe pain in the upper arm or at the elbow, depending on where the tendon is injured. At times, you may hear a "pop". Other symptoms include swelling, visible bruising, weakness in the shoulder or elbow, and trouble turning your palm up or palm down. A bulge referred to as a "Popeye Muscle," may also appear in your arm, because the tendon is no longer holding the muscle in place properly.
Risks and Complications of Bicep Tendon Tears
Complications are rare and may include numbness and weakness in the forearm, formation of new bone, limited movement, and tearing may recur.
Diagnosis of Bicep Tendon Tears
Biceps tendon tear is usually diagnosed based on your symptoms, medical history, and a physical examination. During the physical examination, your doctor will look for a gap in the front of the elbow. Your doctor will diagnose a partial tear by asking you to bend your arm and tighten the biceps muscle. You may have pain if there is a partial tear. X-rays may be taken to rule out other conditions causing shoulder and elbow pain. Using an MRI scan, your doctor can know whether the tear is partial or complete.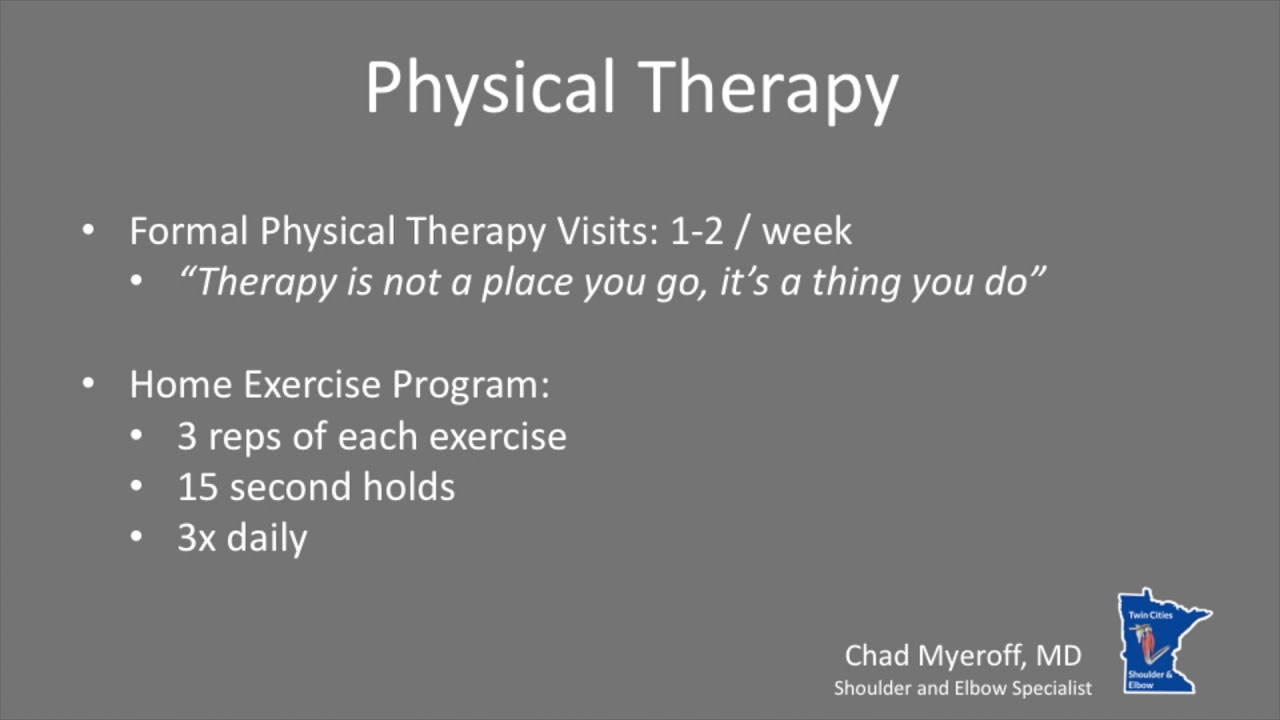 Physical Therapy Intro Video
Conservative treatment for a proximal biceps tendon tear includes:
Ice application
Limiting activity
Non-steroidal anti-inflammatory medications to reduce the pain and keep down the swelling
Flexibility and strengthening exercises to restore the mobility and strengthen the surrounding muscles
Surgery to reattach the torn tendon back to the bone is rarely needed. However, for patients with partial tears who continue to experience symptoms after non-surgical treatments or who want all their arm strength back, such as athletes or manual laborers, surgery may be the best option.
Your surgeon may opt for several surgical procedures for distal bicep tendon tear where the distal biceps tendon is reattached to the forearm bone. Some doctors would instead use two incisions, while some use only 1 incision. Both procedures carry certain advantages and disadvantages. During the procedure, the tendon is attached with stitches through holes drilled inside the bone or small metal implants may be used to attach the tendon to the bone.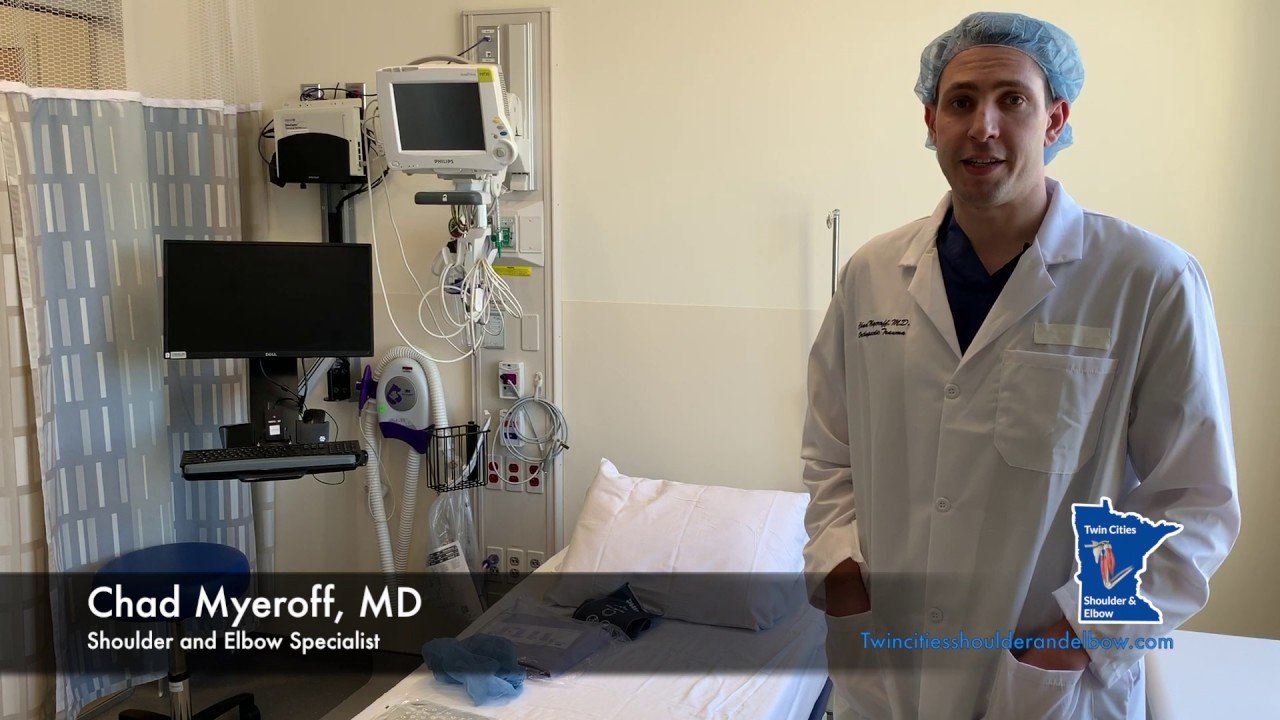 Before Surgery Video
Once you and your doctor decide that surgery will help you, you will need to learn what to expect from the surgery and how to actively participate in the treatment plan for the best results afterward.
Preparing mentally and physically for surgery is an important step toward a successful result. Understanding the process, and your role in it, will help you recover more quickly and have fewer problems.
Before surgery, your doctor will perform a complete physical examination to make sure you don't have any conditions that could interfere with the surgery or the outcomes.
Routine tests, such as blood tests and X-rays may be performed.
Discuss any medications you are taking with your doctor as you may have to stop or alter your intake before surgery. If you are taking aspirin or anti-inflammatory medications or any drugs that increase the risk of bleeding, you will need to stop taking them one week before surgery to minimize bleeding.
Discuss with your doctor about preparing for potential blood replacement, medical interventions and other treatments prior to surgery.
Report any infections to your surgeon. Surgery cannot be performed until all infections have cleared up.
If you smoke, you should stop or cut down as smoking interferes with wound healing and can affect your recovery.
Have someone available to take you home, as driving is not recommended for at least 24 hours or as advised.
You may need help with everyday tasks such as cooking, shopping and laundry.
Put items that you use often within easy reach, so you won't have to stretch and bend as often.
After Surgery Video
Elbow Surgery Recovery Video
Elbow Elevation Technique Video
After the repair is complete, a hinged elbow brace will be applied with your elbow bent at 90 degrees. The brace will be removed after 6 weeks and it may take up to 6 months -1 year to regain full strength.
Want to know more?
Physical Therapy Intro Video
Finger ROM Video
Standard Elbow ROM Video
Following surgical repair, you will need to do flexibility and strengthening exercises to improve the range of motion in your shoulder.
Want to know more?
Related Topics