Elbow Stiffness
Diagnosis
Non-operative Options
Operative Options
Before Your Surgery
After Your Surgery
Your Rehab
Elbow stiffness is a common complication following elbow surgery, fractures, dislocations and burns.
The normal functional range of motion for an elbow is 30-145 degrees. A stiff or contracted elbow may be diagnosed when the ability to extend or flex the arm is lessened by 30 degrees or more. Flexion contractures greater than 45 degrees will significantly affect your ability to perform activities of daily living such as bathing and eating.
Symptoms Associated with Elbow Stiffness
Along with stiffness of the elbow you may also experience Inability to fully extend or flex the arm. Pain is not usually present.
Causes of Elbow Stiffness
Causes and risk factors associated with elbow stiffness include:
Elbow trauma
Elbow surgery
Osteoarthritis
Rheumatoid arthritis
Loose bodies
Osteophytes or bone spurs
Malunions of fractures
Joint infection
Burns
Diagnosis of Elbow Stiffness
Your doctor will review your medical history, perform a physical examination and order diagnostic studies such as X-ray, CT scan, MRI, and nerve conduction studies.
Physical Therapy Intro
Shoulder and Elbow Steroid Injection
Conservative treatment options can successfully treat most cases of elbow stiffness in less than 6 months. They are prescribed by your doctor based on your particular condition and may include the following:
Physical therapy
Splinting
Casting
Manipulation to treat with hands by mechanical means in a skillful manner
Want to know more?
If conservative treatment options fail to improve the elbow contracture despite your adherence to physical therapy, surgery may be recommended.
Capsular release is a surgical procedure to release the contracture associated with elbow stiffness. This surgery may be performed through a large, open incision or arthroscopically through much smaller incisions. Your surgeon will discuss the options with you and decide which method is appropriate for your condition.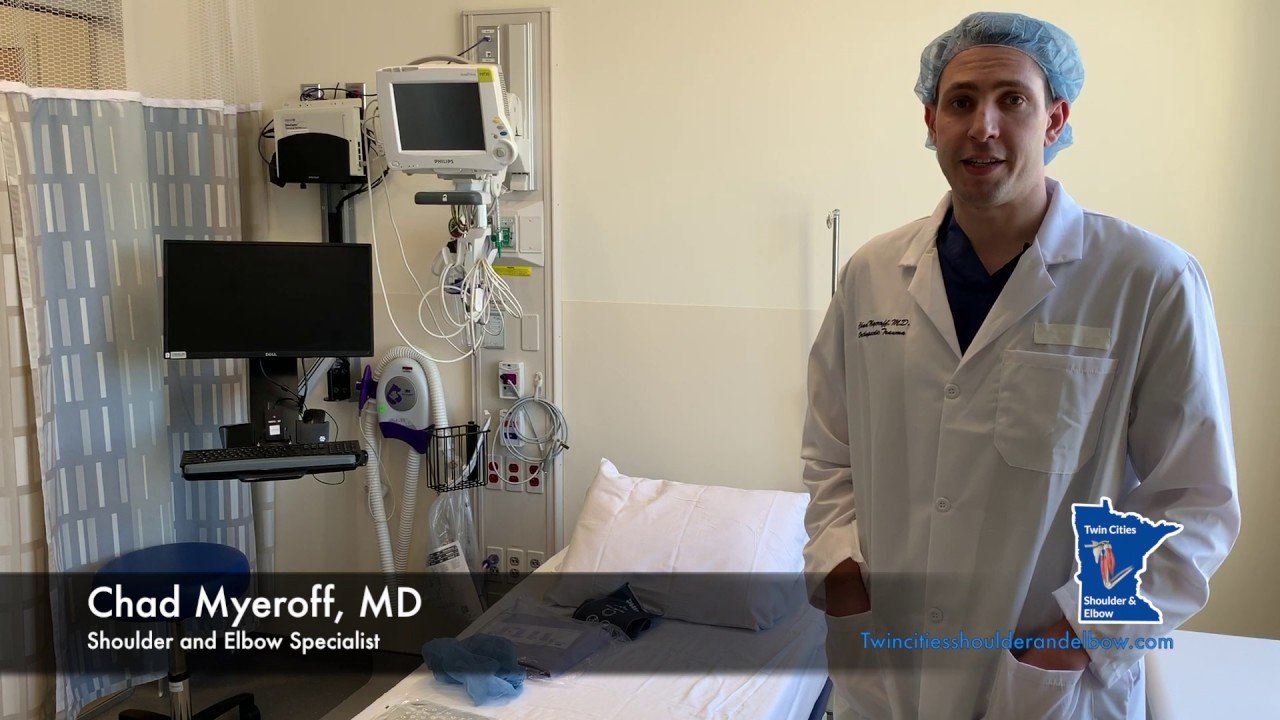 Before Surgery Video
Once you and your doctor decide that surgery will help you, you will need to learn what to expect from the surgery and how to actively participate in the treatment plan for the best results afterward.
Preparing mentally and physically for surgery is an important step toward a successful result. Understanding the process, and your role in it, will help you recover more quickly and have fewer problems.
Before surgery, your doctor will perform a complete physical examination to make sure you don't have any conditions that could interfere with the surgery or the outcomes.
Routine tests, such as blood tests and X-rays may be performed.
Discuss any medications you are taking with your doctor as you may have to stop or alter your intake before surgery. If you are taking aspirin or anti-inflammatory medications or any drugs that increase the risk of bleeding, you will need to stop taking them one week before surgery to minimize bleeding.
Discuss with your doctor about preparing for potential blood replacement, medical interventions and other treatments prior to surgery.
Report any infections to your surgeon. Surgery cannot be performed until all infections have cleared up.
If you smoke, you should stop or cut down as smoking interferes with wound healing and can affect your recovery.
Have someone available to take you home, as driving is not recommended for at least 24 hours or as advised.
You may need help with everyday tasks such as cooking, shopping and laundry.
Put items that you use often within easy reach, so you won't have to stretch and bend as often.
After Surgery Video
Elbow Surgery Recovery Video
Elbow Elevation Technique Video
The post-surgical instructions include:
Make sure to get adequate rest.
Raise your elbow on pillows above the level of the heart to help reduce swelling.
Keep the incision area clean and dry.
A compressive stocking may be applied from the armpit to the hand once the dressing is removed to decrease pain and increase range of motion.
Your doctor will prescribe pain medications to keep you comfortable.
Eating a healthy diet and not smoking will promote healing.
Want to know more?
Physical Therapy Intro Video
Finger ROM Video
Standard Elbow ROM Video
Physical therapy will be ordered to restore normal elbow strength.
Want to know more?